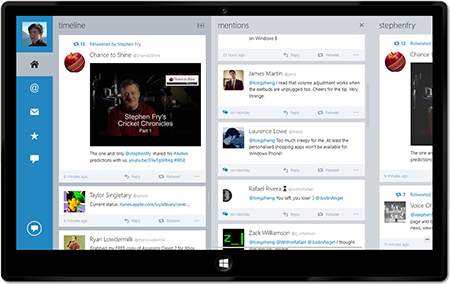 The anticipated major update to MetroTwit for Windows 8 has just been certified and is now rolling out to Windows 8 users around the world for customer download. You can see the details in the Windows Store here.
The significant new features added since our preview version are:
Twitter Streaming support (and Twitter API 1.1 support)
Added Twitter lists support
Added multiple accounts support (requires MetroTwit Pro or Plus)
Added inline media previews
Added support for Twitter profile banners
Fixed portrait and snap view support for many pages
Fixed multiple crashes and instabilities
Fixed emoji unicode support
Added geolocation support
Many new features
While it has taken us several months to prepare this update, we anticipate rolling out more features and bugfixes in the near future through the Windows Store.
Pricing: free upgrade for all current MetroTwit Plus users
MetroTwit Pro – the in-app upgrade removes the advertising inside MetroTwit for Windows 8 and also enables multiple-accounts support, and may include other professional features in the future. This is a $4.99 (AUD) in-app upgrade from the Windows Store.
Since we had very small beginnings with heartfelt support from many early adopters who paid for our Windows desktop application, we'd like to return the kindness with a special offer to all MetroTwit Plus users. Every MetroTwit Plus user gets free access to the Windows 8 app upgrade as well.
Simply copy and paste the MetroTwit Plus email code into the General Settings screen from the Settings charm to validate the upgrade.
Thank you all for your support
We would like to thank everyone for their patience and ongoing support of MetroTwit's development. We are a very small team with big ambitions facing very harsh restrictions from Twitter, so seeing the overwhelmingly positive community response has been much appreciated. Please continue to rate and review our app.
We hope to also release a refreshing update to MetroTwit for Desktop soon.
— David Golden, Winston Pang, Long Zheng